Our NSW business recently received the Bronze Partner Status Award for the New South Wales Government's Office of Environment and Heritage Sustainability Advantage program. The award and status recognises the sustainability journey that Cleanaway is on to engage proactively about sustainability within the organisation and with our partnered customers.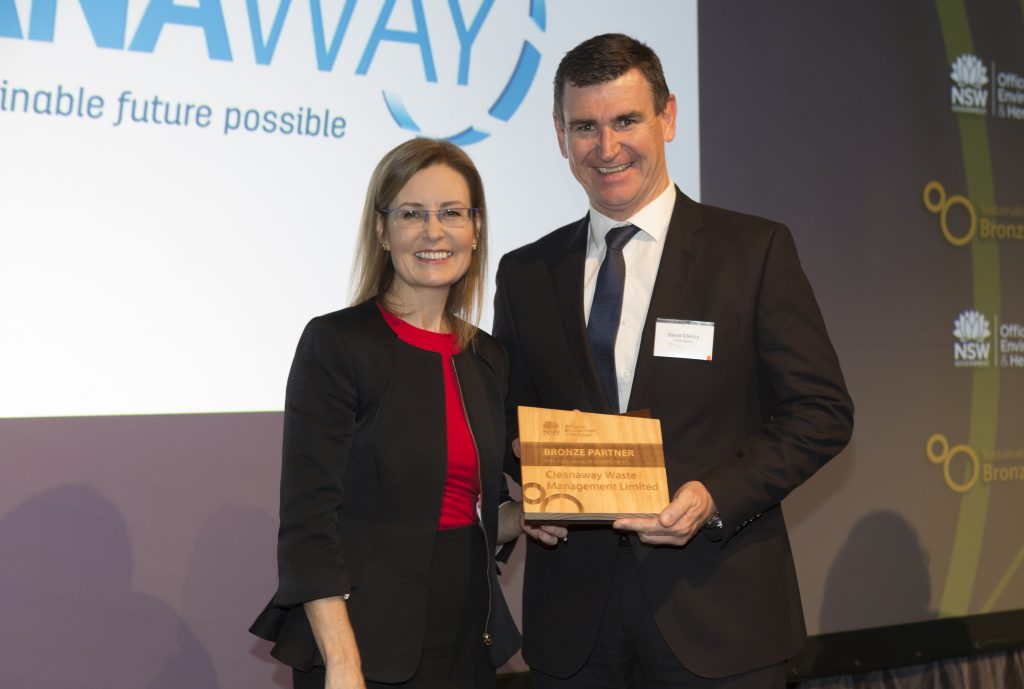 Sustainability Advantage is a NSW Office of Environment and Heritage program that has been assisting organisations across New South Wales to achieve increased competitiveness and improved bottom lines through better environmental practices for over a decade.
Cleanaway joined the program as a member in 2015, and in 2017 was recognised for our sustainability initiatives internally and through partnerships programs delivered to customers.
The award is demonstrative of Cleanaway's ongoing commitment to sustainability and continuous improvement through program implementation around sustainability initiatives.
The Sustainability Advantage program aims to facilitate mutually beneficial outcomes between partnership organisation. Ultimately the goal of the program is to help businesses partner with like-minded organisation that seek to improve sustainability outcomes.
As members, Cleanaway staff have had to opportunity to attend workshops and training on a variety of topics including building resilient cities, climate change and product stewardship.
In 2016 Richard Pittard, Cleanaway's Head of Health Safety and Environment, completed the prestigious executive level training through the Prince of Wales's Business and Sustainability Program delivered by the Cambridge Institute for Sustainability Leadership.
About the Sustainability Advantage program:
Over 500 participants are saving a combined $95 million a year, by identifying and implementing projects that enable them to:
Save money and improve productivity
Integrate environmental strategies with business planning
Use resources more efficiently
Engage and train staff
Enhance relationships with customers, suppliers and communities
Measure their carbon footprint and manage their emissions
Manage environmental risk and ensure compliance
Gain government support and resourcing
Receive the latest advice from business and government specialists
Broaden their network by meeting and sharing ideas with others in the same industry and region.
Contact us today to find out how we're making a sustainable future possible.