When you are ready to submit an invoice for payment, locate the PO email notification and open it.
1. Locate and click the "Create Invoice" button. If creating a credit ensure the price is entered as a negative value.

Enter invoice number

exactly as per your TAX invoice (PDF Attachment)

– this is the invoice number generated by your accounting system. Do not put multiple invoice numbers in this field. (Refer to multiple invoice instruction below)
Invoice date (Please amend if required).
Attach PDF copy of your tax invoice.
** Tick "Line Level Taxation" Checking GST values per line
Validate or amend the quantity and price of the item/service per line that you are invoicing.

Do not change taxations figures.

Delete any PO lines of items/services that you are not delivering/charging for on this invoice by clicking the red minus sign (-) Click "Calculate" and ensure the values being invoiced are the same as the value from your accounting system's generated tax invoice.
Click "Submit"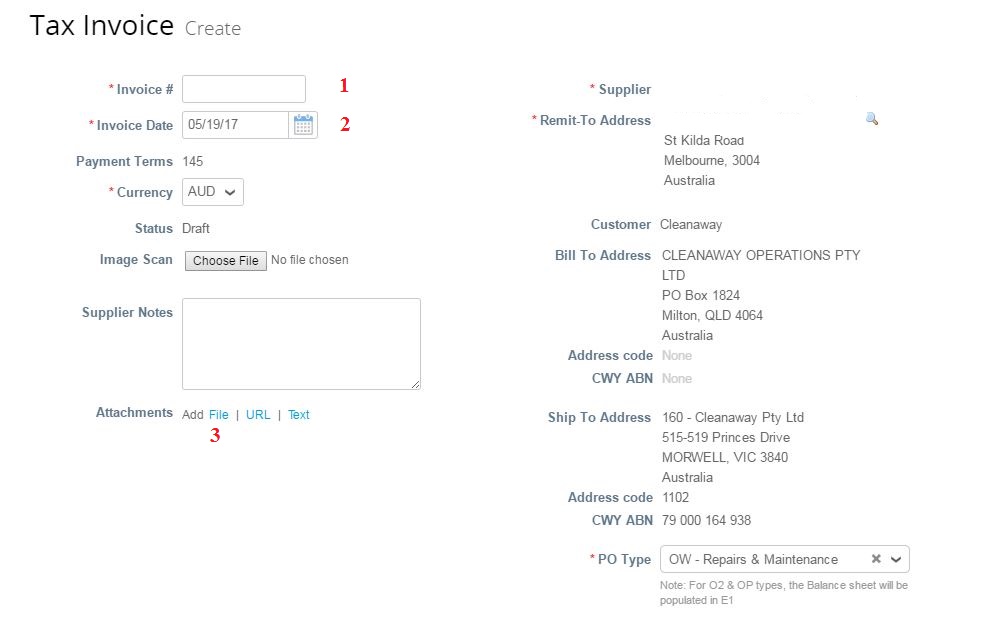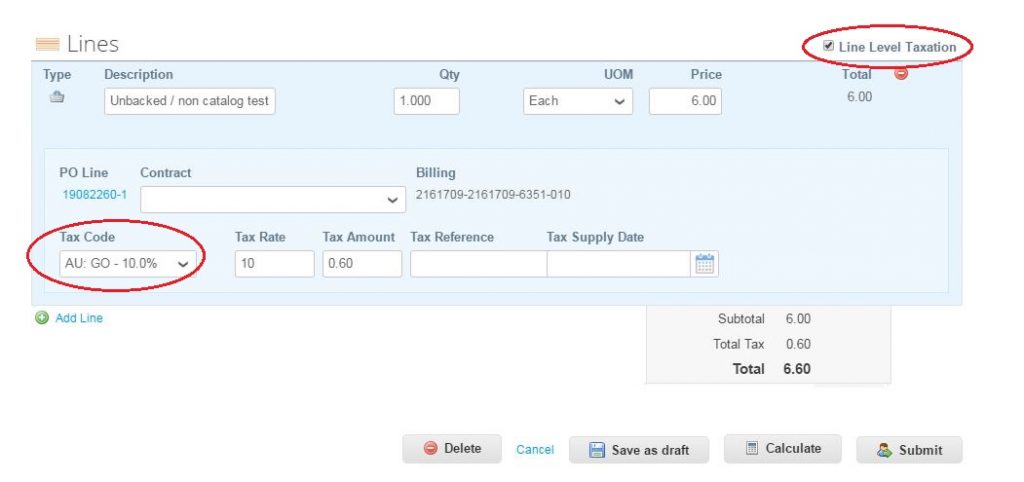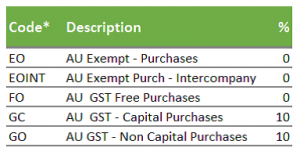 Coupa will ask you to confirm you are ready to send – click "Send Invoice" to submit the invoice.

Remit-To Address
If you haven't created a "Remit-To Address"; please refer to "Mandatory Fields – Remit To Address" section in the "Register" guide
Creating Multiple Invoices for a Single Purchase Order
If a single PO relates to multiple invoices
from your accounting system, you must
delete the irrelevent PO lines for each
Coupa invoice created.
In this example we use the one PO to
create two invoices.
Example
Invoice 1234
PO 1001
Line 1 – Verify Qty and
Price
Line 2 Delete (as not
charging)
Line 3 Verify Qty and
Price
Line 4 Delete (as not
charging)
Example
Invoice 1235
Go back into PO 1001
and select create invoice
Line 1 – Delete
Line 2 Verify Qty and
Price
Line 3 Delete
Line 4 Verify Qty and
Price
Creating an Invoice for Multiple Purchase Orders X
If your supplier tax invoice contains items or services associated with multiple Cleanaway Purchase Orders, you (the supplier) cannot submit this invoice through the CSP.
If this is a common occurrence there is a CSV invoicing option that can be explored. Request more information by emailing Coupahelp@cleanaway.com.au.
If this is a 'once of' for a supplier, the invoice can be emailed to invoices@cleanaway.coupahost.com and Cleanaway Accounts Payable will process the invoice manually as a once of event.
Disputes
If there is a price discrepancy or misalignment between the supplier generated tax invoice # and the invoice number submitted in Coupa, Cleanaway will dispute the Coupa invoice in preparation for you to correct. Supplier created invoices through Coupa can only be corrected by the supplier Cleanaway cannot modify the data entered into Coupa by the Supplier.
For CSP Disputes: the invoice will have a 'disputed' status and a comment from Cleanaway regarding the action to be taken. As the supplier you are required to correct the discrepancy and resubmit.
Add Freight to an Invoice
If the purchase order does not include a freight line,
Option 1: Please add the freight value to the unit rate of an existing line, or
Option 2: Contact the purchase order requestor to add a line to the purchase order for freight.
For Support please email Coupahelp@cleanaway.com.au