Highlights
Three years ago, Cleanaway launched our Footprint 2025 roadmap to ensure Australia has the right infrastructure in place to support communities in managing their waste while continuing to improve resource recovery.
As we head into FY2020, Cleanaway remain committed to our battle plan to fight the war on waste.
Cleanaway continue to invest in our future footprint through a network of prized assets strategically located across Australia. These fully-licensed facilities are designed to provide the right solution in the right location to increase resource recovery and support the needs of local communities.
Since our last update in 2019, we expanded our network to include innovative treatment and processing capabilities that ensure as little residual material as possible is left to be disposed of. We are also in the process of trialling emissionless electric vehicles that improve our impact and service capabilities.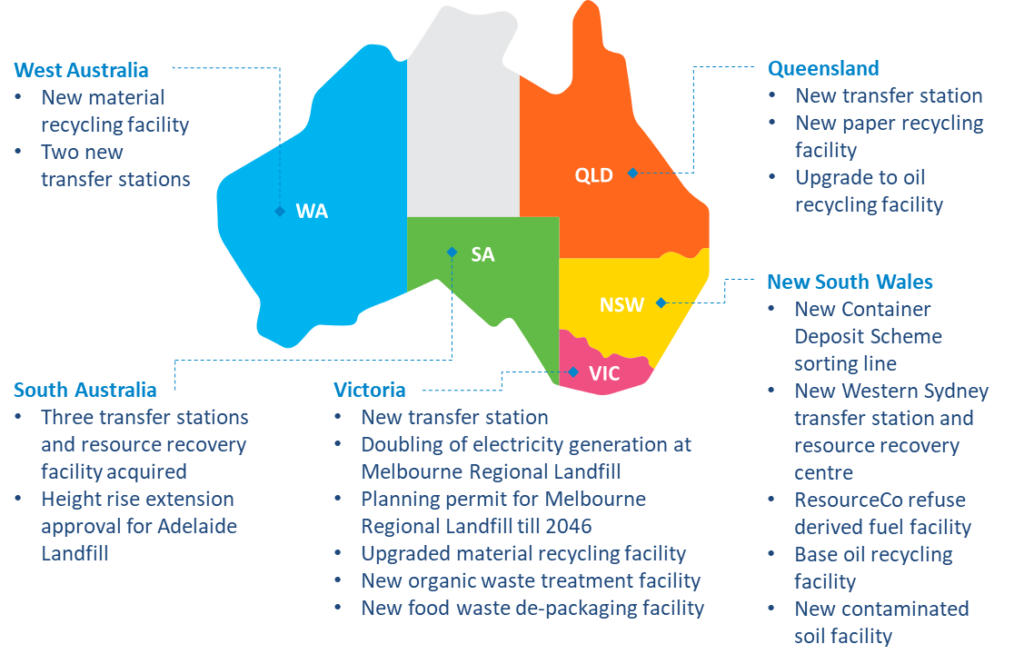 Over the past three years, we have been upgrading our existing assets into highly prized infrastructure assets while acquiring new capabilities through strategic investments
Food depackaging unit, Dandenong
Cleanaway's new food depackaging unit processes large volumes of food waste packaged in aluminium, plastic, liquid paperboard or cardboard so that the nutritious organic material can be recovered and reused to produce high-quality mulch and soil conditioners. Located in Dandenong, Victoria, the unit is capable of processing up to 10 tonnes of packaged food waste every hour, with a potential of recovering up to 99%.
South East Organics Facility, Dandenong South
Recovering up to 100,000 tonnes of food organics, garden organics (FOGO) waste from kerbside FOGO collections across South East Melbourne. Decontaminated and shredded FOGO waste will be repurposed into nutrient-rich compost, to be beneficially reused.
Erskine Park Transfer Station
Launched at the end of 2018, our cutting-edge Erskine Park facility has the capacity to process more than 300,000 tonnes of waste each year and divert up to 40% recyclable materials from landfill. The transfer station is perfectly positioned just minutes from the site of Sydney's second airport at Badgery's Creek, and close to the Cleanaway ResourceCo Resource Recovery Facility to recover the dry waste.
Cleanaway ResourceCo Resource Recovery Facility, Wetherill Park
The largest waste-to-processed engineered fuel facility in Australia, our Wetherill Park facility is licensed to receive up to 250,000 tonnes per annum of dry commercial and industrial and mixed construction and demolition waste. The plant recovers commodities like metal, clean timber and inert materials, and uses the residual waste to produce process engineered fuel (PEF), which is an alternative to fossil fuels like coal and gas.
Fully electric collection vehicles trial in Melbourne, Victoria
Cleanaway's electric vehicle trial in Victoria are an exciting step forward as we work towards our mission to make a sustainable future possible. With zero emissions, the vehicles are expected to run for 180-200 kilometres before needing to recharge. The brakes also regenerate – reducing repair and maintenance costs, and the consumption of other parts like brake pads. Learnings from the trial will allow Cleanaway to introduce more electric and combination fuel vehicles to the permanent fleet in the future.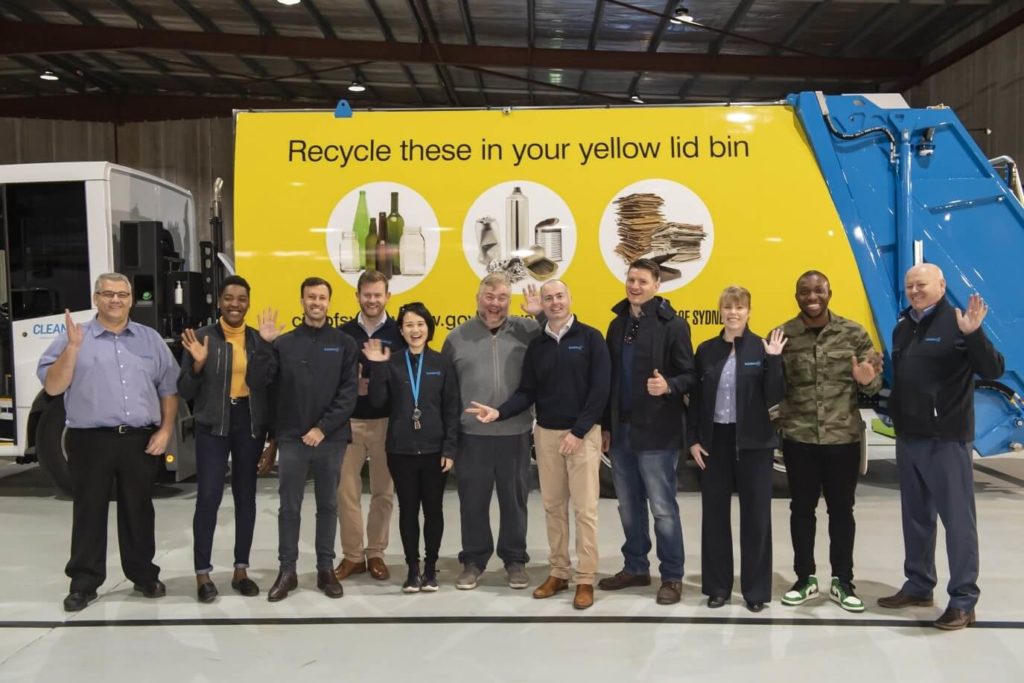 Perry Road super site
The massive site brings together operations from three other sites to be in close proximity to major arterials within Dandenong's industrial area, which enables us to provide better service to our customers.
Daniels Health Robotic Washline
The fully automated, robotic Washsmart technology enables us to offer our customers reusable collectors for clinical waste while providing the highest level of safety and decontamination.
BluBox plants in New South Wales and Victoria
Our BluBox technology is the end-to-end recycling solution for next generation e-waste materials such as flat screens, mobile phones, fluorescent tubes and lamps. It also processes e-waste safely and efficiently while recovering precious metals like gold, silver and platinum.
Eastern Creek Container Sorting Facility
Automated optical sorting line capable of sorting, baling and distributing up to eight tonnes an hour of high-quality recyclables from NSW's Container Deposit Scheme.
For a complete list of all our recent investments in resource recovery infrastructure, read our Footprint 2025 FY2018 update and FY2019 update.
Contact us to find out more about Footprint 2025 and how we help make a sustainable future possible for communities and businesses across Australia.