Christmas is a wonderful time of year for getting together with family and friends, giving gifts and decking the halls with decorations. Don't let all that celebration be a source of waste. Last year, we shared our tips for having a sustainable Christmas – this year, we're sharing our top sustainable shopping tips.
Sustainable decorating ideas
Whenever possible, make choosing natural and organic products your priority when shopping for your Christmas tree and decorations.
Plastic Christmas trees may seem convenient but there's nothing quite like a real tree. Even choosing your tree is part of the experience, not to mention the piney smell that fills your lounge room. And of course, when Christmas is over, real trees can be easily recycled. Almost all Australian councils will have a Christmas tree collection service or a green waste service, allowing your tree to be turned into mulch and compost.
If you have the space, consider buying a potted tree that can be returned to the garden once the festivities are over. Imagine how cool it would be to have the same Christmas tree decorating your home year after year.
For ornaments, avoid plastic as much as you can. While plastic decorations are pretty and cheap, they are also easily damaged and cannot be recycled. Organic and compostable decorations such as a eucalyptus wreath or garden-cut flowers make bright and colourful decorations that can be updated yearly with minimal environmental impact, especially if you compost them afterwards.
Durable glass, ceramics, porcelain and wooden ornaments are also great alternatives to the typical cheap plastic baubles. They're easy to maintain and provide a classy, timeless look that holds its sparkle year after year.
Sustainable gift shopping
Our tip for sustainable gift-shopping can be summed up as:
Ban the bag
Avoid using plastic bags whenever you can. Instead, bring along reusable shopping bags or a few cardboard boxes for your groceries. Added bonus: you might end up spending less because you're restricted to buying what you can carry.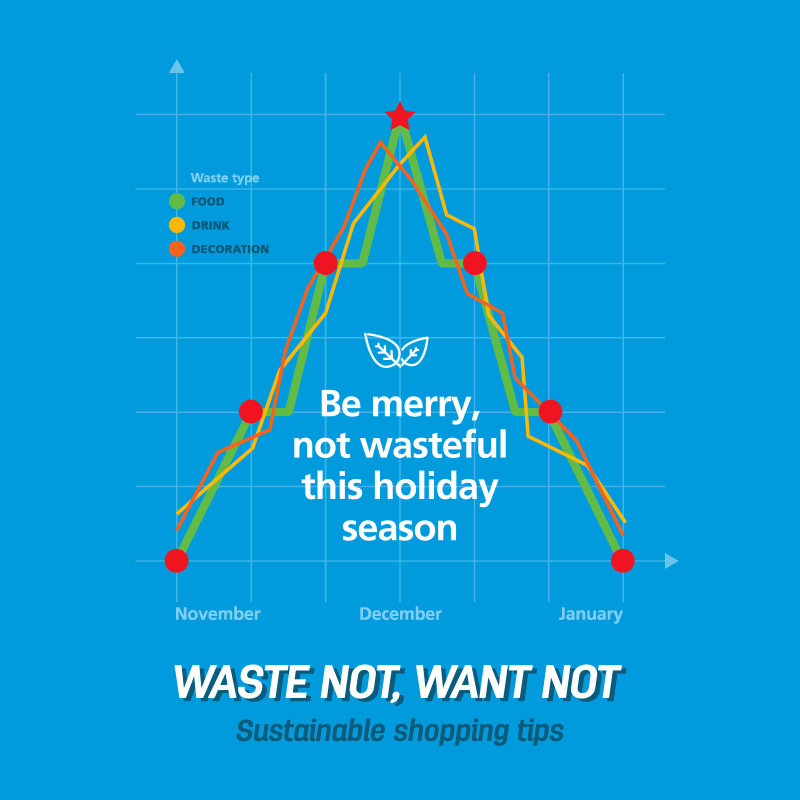 Put your money where your mouth is
The easiest way to shop sustainably is to choose sustainable brands.
These days there is a sustainable option for anything your heart desires. Clothes, shoes, jewellery and electronics – brands are increasingly more aware of their impact on the environment and delivering sustainable improvements across the supply chain. Websites like Good Spender and Good Smiths connect customers with sustainable- and community-focused businesses, making it easier than ever to shop sustainably.
Other sustainable shopping locales include shopping online and at your local farmer's markets. Here's why:
For food
Shop at the local farmer's markets to find the freshest and best seasonal produce, reduce packaging and cut food miles. The less your food has to travel to reach you, the lower its impact on the environment.
For gifts
You should also check out your local markets for unique hand-crafted gifts, homemade treats and sustainable decorations. Local markets offer unique and uncommon gifts and décor pieces that are a bit different from what's on offer at the big chains.
For everything else
Online shopping can also be a great way to reduce your impact on the environment. ABC Online points out that getting your Christmas shopping done early and digitally from start to finish can actually be better for the environment as opposed to making multiple trips to the shops.
What are your eco-champ tips for sustainable shopping? Share them with us online with the hashtag #sustainablefuture on social media.